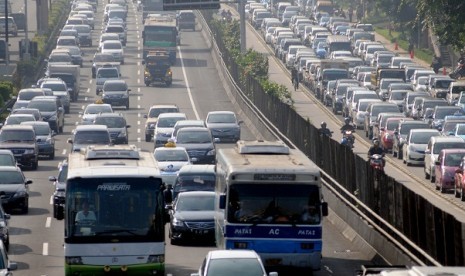 REPUBLIKA.CO.ID, JAKARTA - Starting from March 2013, Jakarta will implement odd-even license plate policy. Under the system, cars with license plates ending in an odd number can only pass the street at given day and vice versa. Government will soon socialize the new system to the citizens.
"This system will encourage people to use public transportation. It can also save fuel," Governor of Jakarta, Joko Widodo, said on Thursday.
He said that traffic jam could not be solved without radical policy. The system can also be applied to motorcycle. Yet, he said that the policy would only be implemented if the public transportation was ready and safe.
Effective in January 2012, Transjakarta will have 200 articulated bus, while kopaja and metromini are added with 1,000 new buses.
The Head of Transportation Department at Jakarta Government, Udar Pristono, explained that the odd-even regulation would be in effect from 06.00 to 20.00 on working days. It will be implemented in the main streets in the capital city.
The hopeful system is claimed to decrease operational cost in around 8.85 trillion IDR per year. It can also save the fuel up to 343,000 kilo liters per year.
Police will help government monitoring the system. To ease their jobs, the plates will be differentiated using colors or sticker.
Vice Director of Traffic Management at Jakarta Police Department, Wahyono, said the police supported the regulation. However, he said that it would be better if the policy was implemented firstly to high class community. "We must also think on how to make people in Jakarta using public transportation," he said.
Editor: Yeyen RostiyaniReporting: Satya Festiani/Rina Tri Handayani
The question is, shall this solution work?